* * * click here to check out our blogspot * * *
Show Order
1. Rookie Racers - 10 & under or special needs $3.00
2. OPEN 4D $20.00
3. YOUTH 4D $15.00
4. Timed Exhibitions $3.00
5. Fun Class $5.00
Open: $5 office, $1 timer, $1 insurance, $13 jackpot
Youth: $4 office, $1 timer, $1 insurance, $9 jackpot
*$20 nomination fee per horse/rider combo in open or youth.
*3D payout...50+ runners will be 4D payout...points remain as a 3D
*4 Saddles to each D winner in Open + Awards given in Youth
*Top 3 division year-end awards for Open and Youth
*Rookie Racers class 10 & under or special needs $3 entry fee, FREE nomination but child must attend at least 5 of the 8 shows to earn year-end awards.
*$3 per warmup or $5 for two warmups
*Timer malfunction on down barrel run = no rerun
*100% of profits go toward IBB expenses/awards
*All entries must be paid before the first horse runs or entry is invalid
*Children are not allowed near the arena gate unless they are getting ready to compete
*Dogs must be leashed

Sponsoring options available! $500 saddle sponsor, $150 buckle sponsor, $50 or $100 Award Sponsor.

Call Before You Haul!
LeAnna Byers 515-681-6151
Jodi Johnson 515-994-3283 or 515-202-5960
Vicki Dittmer 515-263-9351 or 515-240-8149
Brenda Diehl 515-468-8203
UBRA Approv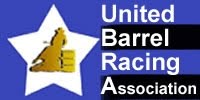 UBRA Approved!